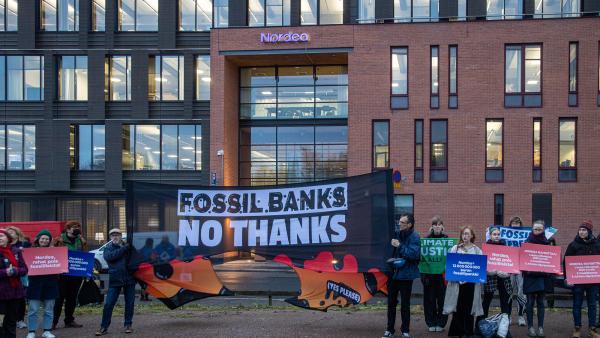 Friends of the Earth Finland, established in 1996, is an environmental NGO with a social perspective and part of the Friends of the Earth international network. Our climate campaign Coal-Free Finland (Hiilivapaa Suomi) is demanding Finnish most polluting companies to align their business with the Paris Agreement. The main campaign target at the moment is the Finnish state-owned energy company Fortum and their subsidiary Uniper, but we also engage with the Finnish bank Nordea, which is a major player in the Nordics.
We work to get the Finnish financial sector aligned with the Paris Agreement. This requires both active engagement towards the fossil fuel sector and stringent fossil fuel exclusion policies.
The campaign has been a pioneer in introducing well-tested global campaign tactics such as AGM activism and finance campaigning to the Finnish climate movement and has been highlighting issues other actors in Finland are not tackling at the moment such as fossil gas, hydrogen and fossil fuel financing.
The campaign has active volunteers and our finance campaign uses a broad set of actions: meetings with financial institutions, communications, demonstrations, different creative actions and AGM activism.
Links